The Best Covers of the Year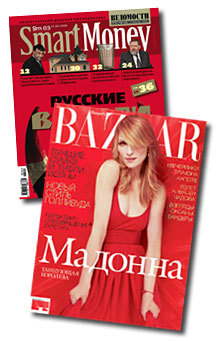 Harper's Bazaar and SmartMoney magazines have become the winners of the 6th annual All-Russian "Cover of the Year" contest. Harper's Bazaar have recieved the award among women's magazines in category "Life in Lux Style", while SmartMoney – among business titles in category "Premiere".
The All-Russian contest of printed media "Cover of the Year" was first held six years ago under the aegis of the international fund of UNESCO. In 2006, more than 700 covers of the leading Russian magazines were presented at the contest.
The first stage of the voting was held on the website
www.oblojka.ru
. The second stage took place at the final session of jury which included packed with leading advertisers and partners of the contest, as well as representatives of the electronic media.
The awards ceremony was held on November 1 in the Natalia Sats Children's mucical theater.