The December Issue of Esquire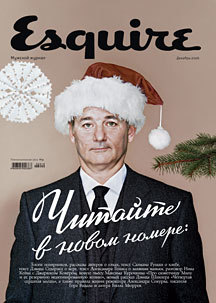 In the December issue of Esquire American writer Gore Vidal talks about totalitarianism, Alexander Genis starts to write a new Ten Commandments, and David Sedaris explains the difference between the Easter Bunny and the Easter Bell.

Also: which modern Russian writers haven't read "War and Peace", "Oblomov" and "Ulysses"; why do polar explorers run naked around the South Pole at -97 Celsius; why will the Internet, ICQ and iTunes die; how, according to art historian and journalist Ekaterina Degot', has Russia changed, and what will Vladimir Putin tell Russians in 2007.

In addition: the new play by Maxim Kurochkin, the best amateur photos from Flickr.com according to famous photographers, the whole truth about the work of Shpuntik, Owl and postman Pechkin, as well as life rules of Bill Murray and Alexander Sokurov.