Contest "Our Close-Knit Female Team" Is Over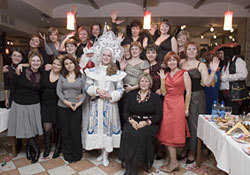 Domashny Ochag magazine has chosen the winner of the contest "Our Close-Knit Female Team" supported by Oriflame and Hkit FM radio station.

Many stories of creative, talented and professional female teams - candy-makers, librarians, researches, doctors, etc. - from different regions of Russia were told both on the pages of the magazine and on the air. In every profession dealing with colleagues is the main course of success for the team.

The main prize of the contest went to the team of Pushkino bank located in Moscow region. A delightful corporate party was held in a dressy restaurant for the winners to celebrate the upcoming New Year. Domashny Ochag editorial has visited the party, too. For the whole evening two teams exchanged cheerful pledges, competed in contests and tried to know each other better.