Women's Happiness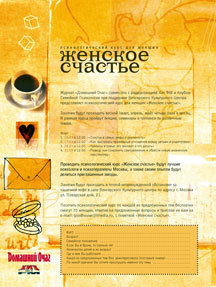 Domashny Ochag magazine, in partnership with Khit FM radio station and Club of family psychology supported by Hungarian cultural center presents "Women's Happiness," a psychology course for women. It will take place from March to May, four times a month in a warm natural atmosphere over a cup of coffee in the hall on Hungarian cultural center (21, Povarskaya Street).

Lectures, seminars and trainings in the frameworks of the course will be held by the best Moscow psychologists and psychotherapists. In addition, some stars will share their experience with participants. Topics to discuss in March: "Family happiness: myths and reality", "How to build proper relationships between children and parents", "Crisis in family: who is guilty and what to do", "Divorce: how to save self-esteem and gain new life perspective".

70 women who send in a filled-in form published in the March issue of Domashny Ochag to the editorial will get a chance to visit the psychological course for free.

The project is widely supported at Khit FM radio station.