Series of Disks from Domashny Ochag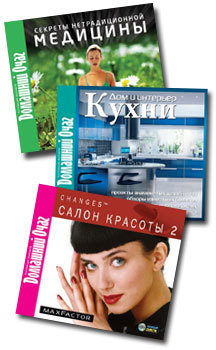 A new series of multimedia disks from Domashny Ochag will allow women of all ages to have a nice time and find something useful for them.
The new series includes advice form experienced physiotherapist Andrei Kurpatov, wonderful recipes from Yulia Vysotskaya, examples of the newest interiors and kitchens, instructions for animal care and development children's programs that will become an excellent gift.
"Beauty salon 2" will help to model a new image. You can upload your photo to the program and not only experiment with your face and hair cut, but receive advice form experienced British cosmeticians. "Large children's encyclopedia" is a fount of useful information for children, while "Treasures hunter" - an excellent children's program to develop logic and sharpness.
You can order the new series of disks by phone (495) 785-6513 or e-mail
zakaz@nd.ru, or purchase at M.video shops. For more information please visit www.nd.ru
.