A Unique Saturday Event At Sokolniki Park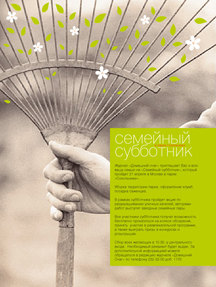 On April 21, Domashny Ochag (Good Housekeeping) magazine will hold a unique Saturday event at Sokolniki Park for its readers and subscribers.

Among other things, the event will feature a contest for the best-painted set of swings. Contestants include Avrora, Vladimir Tishko, Yekaterina Strizhenova, Alyona Sviridova, and Dana Borisova, as well as actors from the musical "Harlequin: A Servant of Two Masters:" Tatyana Lesnevskaya, Tatyana Shumova, Yelena Biryukova, Anna Samokhina, Yelena Morozova, Alexander Serov, Alexei Shutov and others. The painted swings will be installed in the park for children to play on. The swing-painting event begins at noon on the marble veranda.

Participants in the event will have the opportunity to clean the park's territory after which they can go on the rides and enjoy a lunch of tea and bagels compliments of the Grabli restaurant.

All those who want to participate can meet at the park's main entrance at 10:30 am. Organizers will hand out all necessary requisites.

For more information, write the Domashny Ochag editorial.