Cosmo in the Universities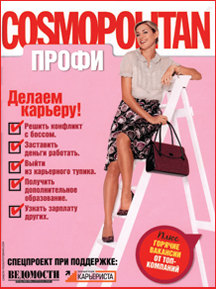 From the end of March to the end of April, Cosmopolitan and Procter & Gamble held a joint program in Russia's top universities. The program's goal was to share crucial career advice with future graduates. The program was part of the campaign for the April issue, a section of which was titled "Cosmopolitan Profi" and completely dedicated to career issues.

As part of the program, students in participating universities were given a promotional package containing a booklet titled "Fresh!" and sample products from Procter & Gamble. The booklet contained Cosmo's answers to important career questions: how to find a job, when to expect a raise, how to dress properly and many others. A large part of the booklet is dedicated to nutritional and beauty issues, as well as information about new Procter & Gamble products.

As a result of the partnership between FMCG companies and Cosmopolitan, a managerial job opening was created at Procter & Gamble for the winner of Cosmopolitan's "New Heights" contest, where the readers of the magazine had a chance to get a job in a leading company by sending in there resume online.