Robb Report Russia in May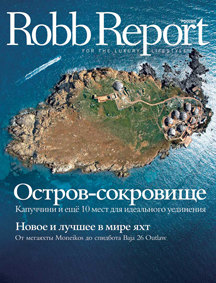 Yachts are the theme in May's issue of Robb Report.

Readers will be treated to a yacht review dealing with all aspects of the sport. What does a yacht represent in Russia? On one hand, it is, of course, a means of announcing your status. At the same time, however, many discover that it is also a source of pure, unadulterated pleasure and become less concerned with what sort of boat their neighbor is sailing. May's issue features the best and brightest yacht novelties of the year.

Also featured:

Boating etiquette: what every yachtsman needs to know. Taking a look at "A Guide for Lovers of Sailing," written by Russian yachtsman and boat designer G. V. Eshem in 1895, and how the yacht has evolved in the 112 years since then. And don't miss an overview of the helicopter market and a glance at some of the most interesting islands currently for sale.