Robb Report Design Portfolio Book Series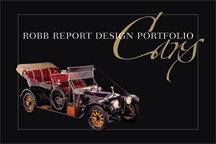 The first book in the series - Robb Report Design Portfolio: Cars - featuring the work of photographer Scott Williamson, renowned for his pictures of classic cars and remakes. Although the book does not try to be an encyclopedia, it nevertheless offers readers a great deal of factual information on every one of the legendary automobiles between its covers.

Some of the books are dedicated to automobiles that are truly one of a kind - they are the only car of their type in existence. Each volume is full of beautiful photographs, taken with the permission of the car's owners. The books will be released in October 2007, with a print run of 7000.