Autumn Viewed By Harper's Bazaar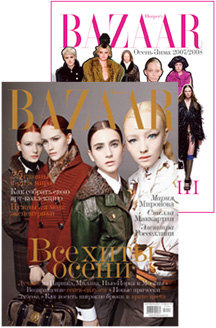 While the August issue dropped a few hints about fashion in the forthcoming season, September's Harper's Bazaar offers the readers the fullest review of all the general trends, ideas and key images of the upcoming autumn.

The main rules of the season by Harper's Bazaar - keep up with fashion and make a good impression; wear bell-bottomed trousers and shoes with thorns; combine kilts and a belt-corsage. There is also a review of the latest novelties and fashionable accessories, primary colors and other best sellers of this autumn.

The main newsmakers of this summer - the Simpsons - have moved not only to the screen, but also into the magazines. Read the unique fashion chronicle "Simpsons in Paris" in the pages of Harper's Bazaar. See how top-model Linda Evangelista and the best designers dress up the cartoon characters, giving the eccentric family access to the world of fashion.

The story: the actress Maria Mironova viewed by Mark Zaharov, Pavel Lungin and other men with whom she has created her best images both in the theatre and in the films.

Also in the issue: The planet's top 25 it-girls, "the prison past" of Paris Hilton, Moscow bobos and new places on the beauty map of the capital. Apart from that the readers will get useful instructions from Madonna's fitness coach and recommendations from the leading art experts on collecting modern art objects.

The readers can also find all the trends of the new season with comments and advice of the Harper's Bazaar experts in the magazine supplement.

The September issue is supported by the Autumn Viewed by Harper's Bazaar promotion campaign which opens the season.

The campaign began on August 27th in Moscow, Saint Petersburg, Ekaterinburg and Novosibirsk. City-formats and billboards are placed in the central streets of the cities involved in this promotion campaign. There are also radio announcements on the most popular capital and regional radio stations. The campaign lasts a fortnight in Moscow and Saint Petersburg, and a month in the regions. The Autumn campaign is the first stage of a long-term promotion strategy developed by Harper's Bazaar.