Cosmopolitan Elects Queen Of Siberia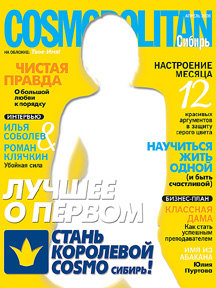 Cosmopolitan Siberia together with the store chain Snow Queen is holding the Cosmopolitan Siberia Queen competition in spring 2008.

This contest will be held in all new Snow Queen shops in Novosibirsk and Krasnoyarsk. All the participants will be photographed for Cosmopolitan Siberia and receive a gift from the magazine. Of course, all the ladies will have an opportunity to win the main prize. The winner will be chosen after voting on the Snow Queen website, and the main prize will be a professional photo shoot for Cosmopolitan Siberia.

The contest began in April in Krasnoyarsk. The details are announced on the local radio station Europe Plus. You can also find information in leaflets distributed in the streets and in partner shops (shopping mall Planeta in Krasnoyarsk and shopping mall Sibirsky Mall in Novosibirsk).