Fashion Horoscope At Cosmo.ru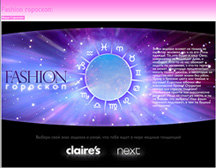 The website of the magazine Cosmo Magic has launched an original project called "Fortunetelling Zodiac" together with the companies Claire's and Next.

The project was created to attract attention by applying the latest fashion trends to the Zodiac signs. In June, website visitors can read their horoscopes and find out what fashion items by Claire's or Next suit their Zodiac sign in the best way.

This fashion-telling horoscope is a unique advertising project which presents the advertisement in a hidden manner. This method used by Cosmo Magic is new but very effective and contemporary. There is no analogue to this original advertising project in the Russian Internet. New nonstandard methods like this one have proved to be extremely efficient and proficient; as well as always being popular among the target audience.