Independent Media Re-launches Brands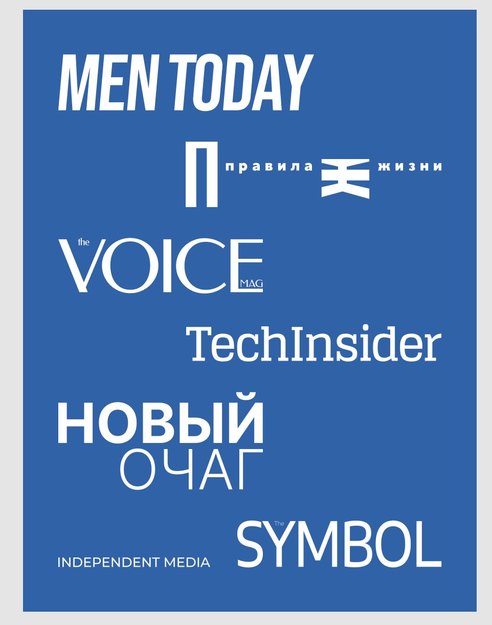 Independent Media announces the relaunch of brands it previously released in partnership with Hearst
Independent Media continues to work on the Russian market, now in a new format. The media holding is re-launching brands that it previously released in partnership with the Hearst conglomerate as localized Russian versions with new names. The projects have retained their chief editors and the key members of their creative teams, but have expanded the scope of the topics they cover. This will enable Independent Media to preserve the continuity of the brands' concepts and strengthen its position in the media space. Independent Media's innovative technological platform will make the transition to the company's new websites as smooth as possible for both the audience and the company's business partners and advertisers.
VOICE: a new project from the team of Cosmopolitan and cosmo.ru - the No. 1 women's portal in Russia - is an up-to-date resource for modern Russian women who want to keep abreast of current events and determine the trajectory of their own lives, regardless of circumstances.
Men Today: an expanded concept of Men's Health, it is an authoritative source of information about a healthy attitude to life and yourself that will regularly cover not only the healthy lifestyle agenda, but also technology, business, cars, finance, culture, fashion and relationships - everything that interests the modern man.
Novy Ochag (New Hearth): the new version of the Domashny Ochag brand will continue to be practical, supportive and warm - and new, of course, because today's women constantly face new challenges and tasks and learn to solve them in a new way every day. The brand will write about everything that interests real women leading real lives.
TechInsider: the expanded universe of the Popular Mechanics brand is a project about how the world works. Its main objectives are to popularize science and explore domestic and global achievements in technology and innovation.
Pravila Zhizni (The Rules of Life): a new team project from the Esquire team - for the smart and discriminating.
The Symbol: a new project from the team of the legendary Harper's Bazaar about things, people and events that play a prominent role in various fields and become symbols of the time.
Grazia and Robb Report will continue working under license as before.
«Independent Media was one of the first on the market to transform its business according to the digital-first principle, – said Independent Media CEO Natalia Vesnina. Our significant capacities in the digital space have became a guarantor of stability in the current situation and have also enabled us to quickly reorganize, retain most of our team members and come out with new versions of our brands. We will continue to provide high-quality content for our millions-strong audience and convenient services for our partners and advertisers».