Cosmopolitan Unites Women Who Change Society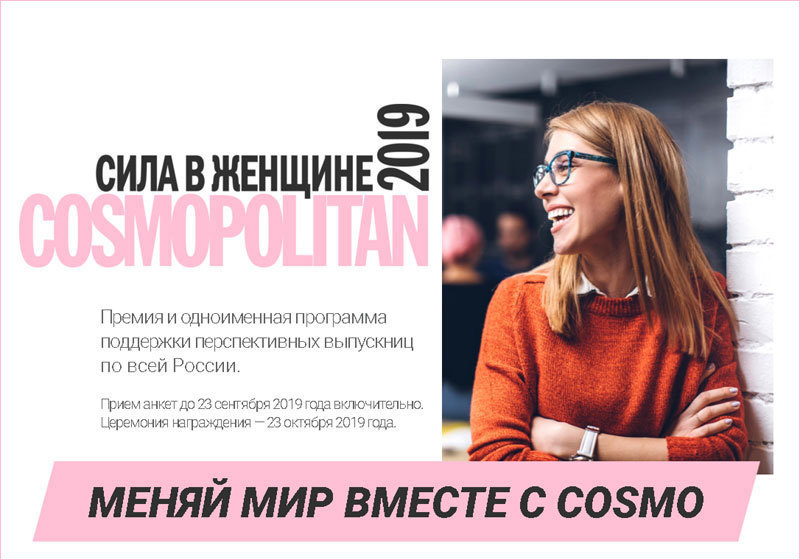 Cosmopolitan, the most important women's media brand in Russia for the last 25 years, presents the Strength is in the Woman project. It consists of an award for women who have achieved success as well as a national program providing support to university graduates.
The Russian edition of Cosmo turned 25 in 2019. Over all these years, Russian woman have been the driving force behind the brand, its inspiration and raison d'être. Cosmo devotes particular attention to supporting and defending women's rights, and to expanding the range of opportunities for them to develop. The Strength is in the Woman initiative is part of this effort.
The Cosmopolitan Strength is in the Woman award unites women whose achievements are changing Russian society. It will be presented in 10 categories: Culture and Art, Science, Charity, Fashion, Sport, Beauty and Health, Social Entrepreneurship, Cosmo Girl (publishing business), Innovation (banking) and Business.
The second part of the project focuses on female Russian university graduates. Contestants must fill out an online application at womenpower.2019.cosmo.ru by the end of the day on September 23. Cosmo editors will choose the 25 most promising participants in each of the 10 categories, and past award recipients will select the winners.
Learn more about the competition at womenpower.2019.cosmo.ru.