National Geographic Russia Opens Wildlife of Russia Exhibition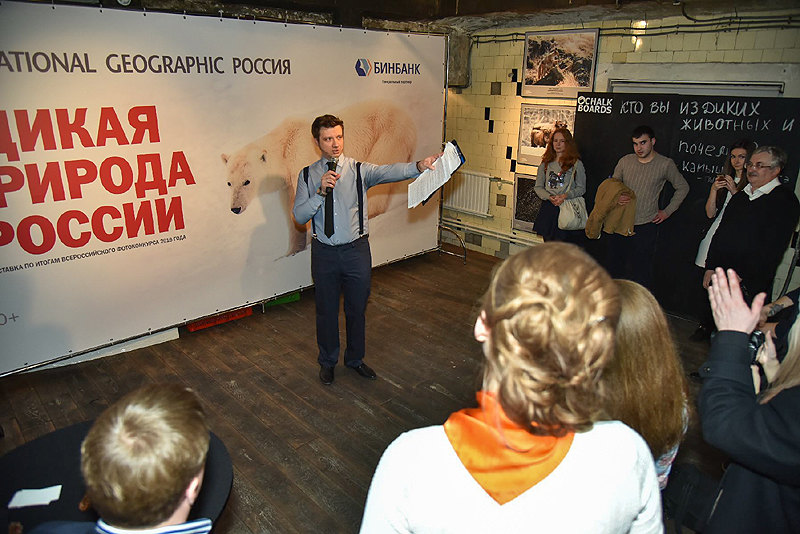 National Geographic Russia and Binbank opened the 2016 Wildlife of Russia photography exhibition in St. Petersburg. The exhibition displays works from the competition of the same name.
The opening ceremony was held on February 1 in the Loft Project Etagi, hosted by emcee DJ Alexei Dankov from Piter FM radio. Alexandra Pechorina (Loft Project Etagi), Svetlana Antonova (National Geographic Russia director of marketing and PR), and Tamara Kolesnichenko (Binbank Western regional director of development) provided the welcoming remarks.
Ivan Serebritsky, deputy chairman of St. Petersburg's Committee for Natural Resource Management, Environmental Protection, and Ecological Safety, was present as the guest of honor. He noted the importance of such projects during the Year of Ecology in Russia and presented complimentary photo albums to the contest winners who hail from St. Petersburg – Fyodor Lashkov (for his photo "The Pine Artist"), Vitaly Matveev ("The Lady with a Flashlight with a Mushroom in the Background"), and Yevgeny Lyapunov ("On a Sunny Threshold").
Guests also received complimentary gifts at the event, and those who answered questions about geography and the contest correctly received "Wildlife of Russia – 2016" photo albums as gifts. After the official part of the program, guests enjoyed a Russian-style cocktail reception provided by the Arka Bar & Grill (27 Ulitsa Bolshaya Konyushennaya, St. Petersburg).
The exhibition will run through March 30 at the Loft Project Etagi, 74 Ligovsky Prospekt, St. Petersburg, and is open daily from 9:00 a.m. to 9:00 p.m. Admission is 200 rubles and 100 rubles for those who qualify for discounts. Guests holding Binbank and MDM Bank cards receive a 50 percent discount off regular admission prices.
After the St. Petersburg run, the collection of visually compelling works will embark on a tour of other regions of Russia.