Men's Health in December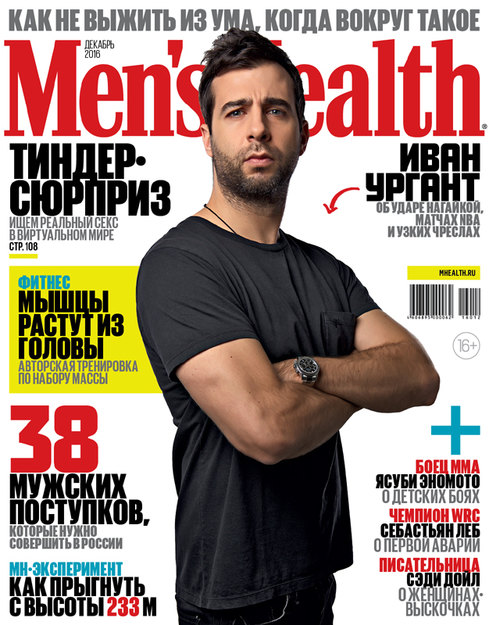 Ivan Urgant has already become a pleasant New Year's tradition in Russia. But this time it refers not to the usual holiday celebration, but to the December issue of Men's Health that features him on the cover. With such fun-loving people as Ivan Urgant, there is always a temptation to speak seriously about television, his endless jokes, and the notorious subject of men's health. Read about what transpired in the new issue.
The magazine performed a major feat of its own by compiling a list of over three-dozen feats that men can and should achieve in Russia. Find stories of a nuclear-powered icebreaker, wooden architecture, so-called "brick bread," the "Caspian monster," the tescao military technique, and why our country is still amazing and unique. The result is a guide to Russian exploits that any man can add to his "To Do" list for 2017.
In the Personal Trainer section, readers will find a workout plan for building muscle mass while increasing power and speed. Also, the special Gifts 2017 section offers suggestions for New Year's gifts for the most important people in your life – including yourself.
Also in this issue:
The most interesting extreme sports films according to one of the best-known snowboarders on the planet – Travis Rice;
A small but useful primer on how to avoid getting laid up by the flu;
How to choose the ideal ax;
Comparing sugar and its substitutes – which is best?
History's most decorated rally driver, Sebastian Loeb, talks about his first car accident;
Russian aerobatics in the Sports section;
Everything you need to know about baking great bread;
The beautiful Old Man of Hoy sea stack in the There is a Place section;
An interview with MMA fighter Yasubey Enomoto;
Simple ways to avoid early senility;
Seven tips on how to behave on Tinder and other similar services;
An article about acclaimed Soviet boxer Gennady Shatkova, who won an Olympic gold 60 years ago;
A report on how one of the magazine's editors tied a cord to his leg and jumped from a 233-meter-high perch.
The magazine went on sale November 15.