National Geographic Russia Exhibition in Gorky Park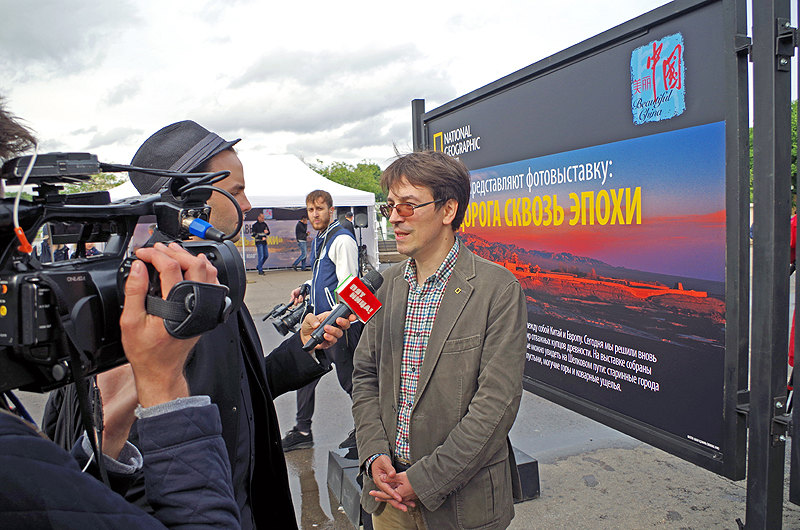 National Geographic Russia magazine and the National Tourism Administration of the People's Republic of China have opened the outdoor exhibition "A Road through the Ages" on the central walkway of Moscow's Gorky Park. Guests the exhibition's opening ceremony received complimentary gifts from National Geographic Russia magazine and its partner, gourmet cookie manufacturer Dakuaz.
The artists from the Anna Kuznetsova Dance Theater opened the ceremony, following which The Moscow Times publishing house founder Demyan Kudryavtsev, National Geographic Russia magazine editor-in-chief Andrei Palamarchuk, Chinese National Tourism Administration assistant chief (Moscow department) Vera Utekhina and China Tour and Business Travel director Natalia Saprykina addressed to the evening's guests.
The exhibition includes 50 photographs devoted to the great Silk Road linking China and Europe. The photographs of ancient cities and temples, deserts, mountains and ravines carry visitors into the world of intrepid merchant travelers. The exhibition includes photos by such famous photographers as George Steinmetz, Cary Wolinsky, Michael S. Yamashita, Ira Block and many others.
The exhibition is on display round-the-clock until July 9. Admission is free.
View video reports of the exhibition on the Rossiya, Moskva 24, Pyatnitsa, REN TV and Avto Plus television channels.