Men's Health in July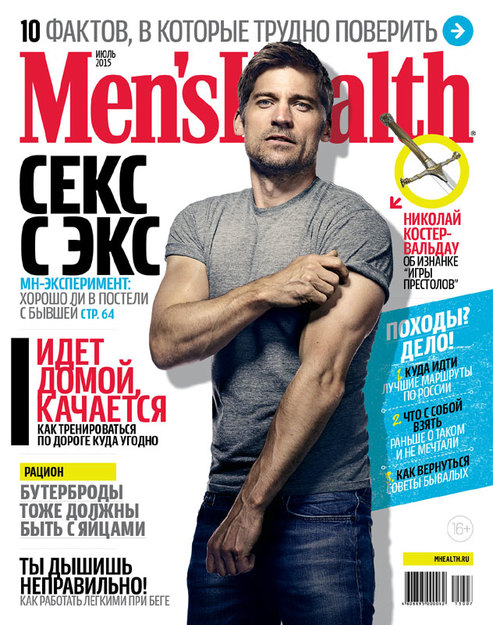 The July issue of Men's Health looks at whether you should have sex with your ex, how women imagine dream dates to be, and great places to go hiking.
This month's cover star is actor Nikolaj Coster-Waldau, who plays Jaime Lannister on "Game of Thrones." In an interview, he explains how he avoids being overwhelmed by the popularity of "Games," how he keeps in shape and whether the season's new episodes or the newest novel in the series appears first.
The special guest for July is Rowan Atkinson, the actor behind the iconic Mr. Bean. Though he might be awkward and ridiculous on-screen, he is intelligent and a pleasant conversationalist in person. What is more, he knows what to do when in a falling airplane.
 
The magazine also contains a special section on hiking tours with 12 suggestions on how to have a physically active summer, with destinations in Russia and further afield perfect for camping, backpacking and even canoeing down a river.
The Personal Trainer section features the fourth installment of the 12-month muscle-building program, with exercises focusing on the arms, and tips on how to work out when you do not have enough time to hit the gym.
Also in this issue:
Using technology to get rid of the many cards making your wallet bulge;
Three quick and delicious breakfasts with eggs;
A brief overview of the summer's best running shoes;
A new workout routine that MMA fighters use;
Sports commentator Dmitry Guberniyev on music and fatherhood;
Instructions for runners: improve your results by improving your breathing;
The truth (and lies) about silicone breasts;
The top five edible plants that you can still grow on your balcony this season, and how to do it;
Six things that interfere with sex, and how to get rid of them;
An honest account of why people want to have sex with their exes, and why nothing interesting is likely to come of it;
A story of how one journalist lost his wallet and the way crooks used it to run up a huge credit card bill.
The July issue of Men's Health went on sale June 16.