National Geographic Traveler Releases Spring Issue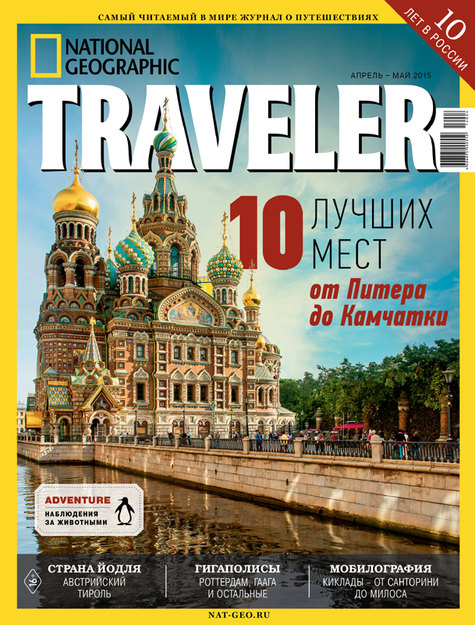 The latest issue of National Geographic Traveler focuses on traveling in Russia and the former Soviet republics, looking at 10 domestic options that could serve as viable alternatives to trips abroad. Go to the Caucasus Mountains instead of the Swiss Alps, the southern coast of Crimea and not the French Riviera or the geysers of Kamchatka instead of visiting Iceland's volcanoes. You don't need to travel far to see a wide range of natural wonders.
In the Strategy section, learn how to plan an affordable trip: the best time to buy tickets, where to find budget accommodations, how to visit museums and attractions without spending a lot of money and how to really immerse yourself in the lives of the locals.
In the Travel Guide section, read tips from the locals on what to do and see in Rotterdam and The Hague – two of the Netherlands' most prosperous cities. Also, read a report from La Raya, the historic border area between Spain and Portugal whose inhabitants manage to coexist peacefully despite their many differences.
The Three Days section is devoted to Tirol: an NGT correspondent travels to this mountain region not in winter like most tourists, but in summer to ride a mountain bike, take a leisurely stroll through Innsbruck and listen to yodelers. In the Adventure section, readers will learn how to observe rare animals in their natural habitats: bears, seal pups, humpback whales, penguins, wildebeests and more. 
Also in this issue: ideas for weekend getaways, selected tours in Russia, the best hotels on private islands, a "Heads and Tails" adventure in Bosnia and Herzegovina, a road trip near Dresden, a report from the famed Paris-Dakar rally and much more.
The iPad version of National Geographic Traveler also contains photos not included in the print magazine.