Start Your Day Right With Women's Health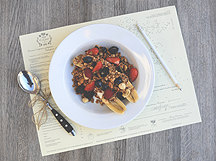 Breakfast is the key to a great day. To this end, Women's Health magazine and Schastye (Happiness) restaurants have teamed up to create a menu of light meals to energize customers each morning.
Beginning March 10, diners at Schastye restaurants in Moscow and St. Petersburg can enjoy tasty and healthy smoothies and snacks. Breakfast is available until noon on weekdays, and brunch is served on weekends until 6 p.m. Party-lovers and those who like late-night walks can also order breakfast on Fridays and Saturdays from 4 a.m. to 6 a.m. The food is also available to go.
The special menu will be available for the next two months and every order of the Women's Health breakfast comes with a complimentary copy of the magazine.