Wedding Magazine on Wedding Reality Show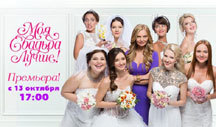 Wedding magazine Editor-in-Chief Lika Duglach will serve as a wedding expert on the reality television program "My Wedding is Best!" that recently launched on the Domashny (Home) television channel. The program airs weekdays at 5 p.m.
In the program, 16 couples compete for four wedding trips: along the way, the couples must go through an acquaintance period, participate in four celebrations and win more votes than the other competitors. While one woman celebrates her nuptials, the others evaluate her wedding according to the following criteria: her appearance as a bride, the wedding menu, entertainment for the guests and the general atmosphere of the event. On the day of the finale, each bride and groom watch their own wedding video and listen to the ratings and comments made by the other brides. The truth comes out, emotions run high and the rivals cry out for a chance to confront each other.
Lika Dlugach joins the show's host, Elena Kuletskaya, in giving her comments to all four celebrations. Dlugach comments come from the standpoint of the chief editor of a magazine devoted to educating readers on what makes a wedding work well: the most important things to remember in the preparation process, which dress styles and colors are in fashion. and so on.