Collezioni Atelier at Niche Perfume Boutique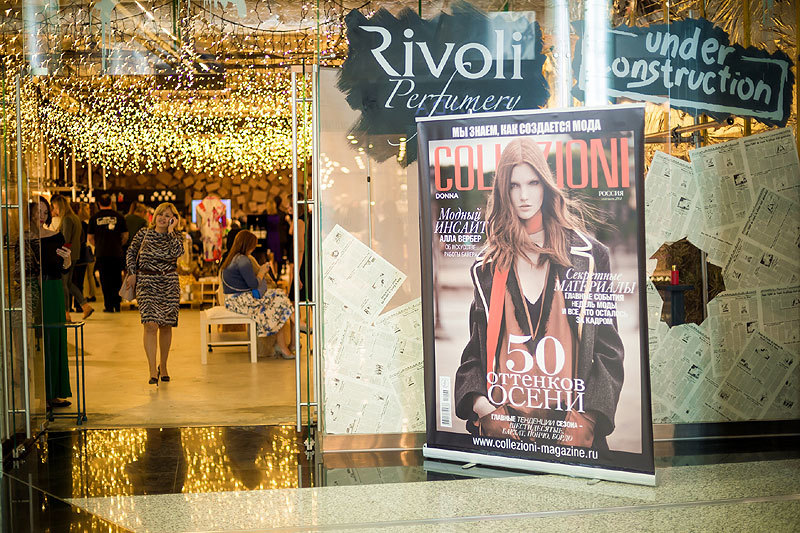 Collezioni magazine held another event as part of its Atelier project. Guests gathered in the Rivoli Perfumery Under Construction boutique that recently opened in the Modny Sezon (Fashion Season) shopping gallery. Anyone present could immerse himself or herself in the world of niche perfumery in the capital's most unusual and avant-garde perfume boutique.
Shipping pallets, hay bales and wharf bollards served as backdrops for a display of some of the best fragrances by elite perfume makers Xerjoff, Nasomatto, Orto Parisi, Andrea Maack, Blood Concept, Tiziana Terenzi among others. Collezioni editor-in-chief Tatiana Maximova presented the evening's featured guests – fragrance experts from Rivoli who conducted a special class for all those in attendance.
Perfume specialist Svetlana Komissarova spoke about the meaning and unique features of niche perfumery. Guests learned to distinguish niche fragrances from standard high-end perfumes and also got acquainted with perfume masterpieces created by the most talented perfumers of our time.
Another perfume specialist, Roman Romanenko, conducted a workshop on "The fiery magnificence of Tiziana Terenzi." Romanenko told guests the secrets of how hand-made, exquisite and multifaceted fragrances for the home are produced. He spoke about Tiziani Terenzi candles representing the pinnacle of perfume fragrances for the home, saying that like a collection of fine wine, they preserve memories of the place and time where they were first created.
The evening's guests could take a perfume test and choose the components of their ideal fragrance. While waiting for the results of the test, they were also able to take makeup lessons from Bobbi Brown specialists. Guests were also treated to an exquisite buffet from the China Club restaurant.