National Geographic Russia in July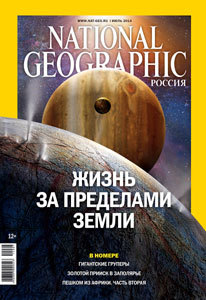 The cover story of the July issue of National Geographic Russia is devoted to the people who hunt for extraterrestrial life. Now, human beings might find the answer to one of mankind's oldest questions: Are we alone in the universe?
Also in this issue:
The giant grouper: Divers in the coral reefs and shipwrecks of the Atlantic Ocean encounter peaceful leviathans weighing more than 180 kilogram and reaching up to 2.5 meters in length. Giant groupers do not like moving about and remain literally glued to the coral reef.
Modern gold mines: The Kupol Mine operated by a Canadian gold mining corporation in Kolyma resembles a space station. Many people are trying to get in, but a few actually want to get out.
A spring carnival for puffins: Every spring, Atlantic puffins flock to the rocky shores and islands of Great Britain to build nests and hatch their offspring. The birds spruce themselves up for the breeding season: their grooved beaks turn bright orange and dark "eyeliner" appears around their eyes.