Yes! in May for Real Princesses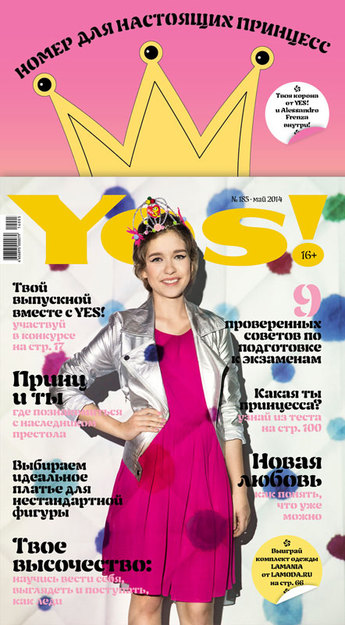 The May issue of Yes! is devoted to real princesses. It serves as guide for those who want to learn to act and look like a lady.
Of course, every young woman is a princess, and as such, she must have her crown. Yes! magazine and the Alessandro Frenza chain of stores prepared a special surprise for readers. Each copy contains a thick page insert with the outline of a crown that the young ladies should cut out, attach to a special holder, decorate, photograph and then post on social networks. The young women producing the most creative crowns will win cool prizes worthy of a princess.
Also, in the article "Your Highness," readers will learn how to accentuate their natural beauty with minimal effort and investment. In "Now is the Time," discover whether it is a good idea to rush into love and how to behave with a new boyfriend. The article "My Fair Lady" reveals the secrets of how a princess behaves and provides practical lessons on etiquette, style and femininity. The quiz "Which Type of Princess are You?" helps readers determine what type of royalty they most resemble. In "A Knight's Tale," find stories from real princes who are capable of feats befitting a knight.