National Geographic Russia Photo Contest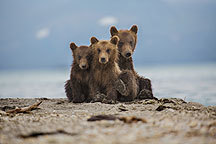 National Geographic Russia magazine and the Russian Geographic Society announce the start of their fourth national photo contest, the 2014 Wildlife of Russia competition.
The photo contest will run from April 1 to September 30 on the site www.nat-geo.ru. Anyone can participate in the competition: the main requirement is that the photograph be taken in Russia. The jury will review submissions in the following categories: Young Talent, Nature in Black & White, Landscape, Underwater, Mothers and their Young, Birds, Mammals, Russia's Nature Reserves, Close-up, From Dusk till Dawn and Plants. Project partner ScanDisk will also announce a special category.
The grand prize winner will receive 300,000 rubles. All of the winners will be announced in Moscow at the opening of the photo exhibition displaying the best works submitted. The 2014 Wildlife of Russia photo exhibition will then go on display in a number of Russia's regions.
Find more details about the contest at www.nat-geo.ru.