Vkusno i Polezno in April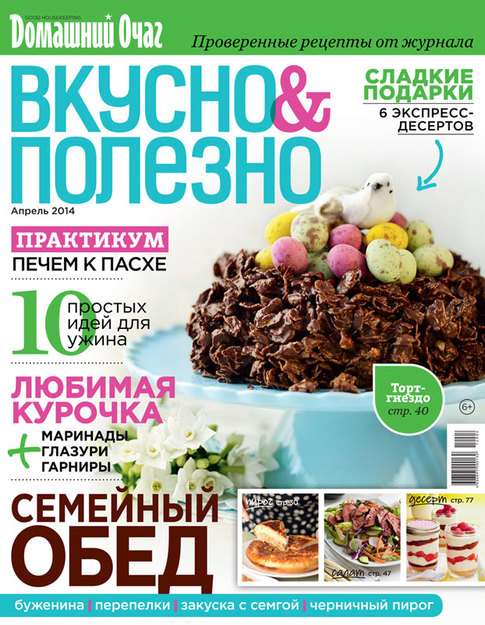 The April issue of Vkusno i Polezno magazine covers a wide variety of subject matter. It targets readers who love to experiment in the kitchen and feed their friends and loved ones the tastiest and healthiest dishes possible.
The main subject this month is Easter, and readers will find a holiday menu for an eight-course family lunch from the chief chef of the Anderson chain of coffee and cake shops that is sure to please adults and children alike. The issue also offers step-by-step instructions for baking the most attractive and airy Easter cake ever, the tastiest curd cakes, pasties from flaky and leavened dough as well as amazing desserts: classic blueberry pasties on shortcake.
The magazine's experts also explain how to cook cheese soufflés, airy omelets, cream yogurt casseroles as sweets and snacks, Spanish tortillas, crème brulee, egg soup with Chinese noodles and five versions of homemade mayonnaise based on a classic recipe that you can whip up in just 10 minutes.
Special mini-cheesecakes help you combine good taste and wholesome ingredients in child's diet. You can have fun making them together with your youngster, but be sure to stock up in advance on cream cheese, whole cream, nuts, crackers, fruits, berries and homemade jam.
Also in this issue:
Five marinades that make chicken juicier and tenderer;
The best low-cost recipes and side dishes;
Ten new express dinner recipes.
Every issue also includes the best recipes from bloggers and readers, the dish of the day and tips from a nutritionist.
The April issue went on sale March 25.