Wedding School in St. Petersburg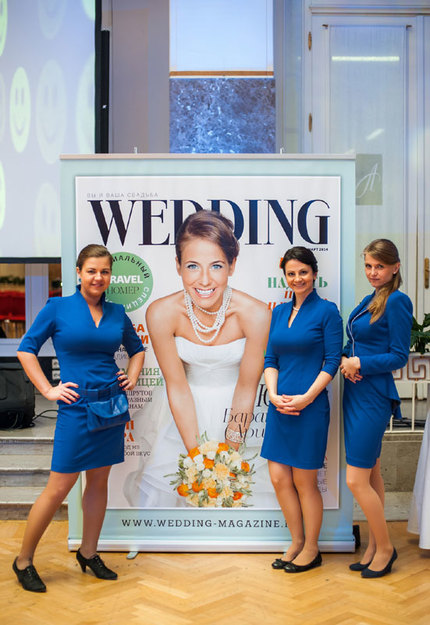 Wedding magazine teamed up with the Art Jam wedding agency to hold the latest session of the Wedding School at the Astoria hotel in St. Petersburg. The Suare Decorations salon created the unique decorations for the venue and the Mariko studio provided the ornamental floral compositions.
The event opened with a welcome speech by Gerold Held, CEO of both the Astoria and Angleterre hotels. Following his talk, Art Jam agency specialists spoke with guests about the finer points of planning and budgeting a wedding and explained the latest trends in wedding fashion. Next, Astoria employees described the art of holding top-flight banquets — a tradition for which the hotel has been famed for more than one hundred years. Then psychologist Marina Talalay answered questions on how couples can build a harmonious relationship.
Wedding School guests also took part in workshops on wedding photography and video, lessons by florists and decorators on how to decorate the room before the ceremony, and listened attentively to instructors from the Perfumer's School of the St. Petersburg Perfumery Museum who explained the subtler points of choosing the right scents for the event.
GallaDance School teachers explained when the bride and groom need to start learning their first dance, and experienced bartenders delighted guests with an entertaining bar show. One young female participant was transformed into a beautiful bride after selecting her perfect wedding dress from the Interstyle wedding fashion boutique. Guerlain brand make-up artists and V&V Studio beauty salon hair stylists helped add the final touches to her stunning new image.
Guests showed a great deal of interest in a presentation of various wedding looks staged by stylists of the V&V Studio beauty salon. The models in the presentation stayed on as Wedding School guests. A video operator and photographer of the F2Pro company was also on hand to share the secrets of successful wedding photo and video shoots.
After the formal part of the program, guests enjoyed chatting with Wedding magazine professionals and editors. All of the future newlyweds received individual consultations and numerous useful tips.
The event ended with a prize raffle that included three bottles of La Petite Robe Noire Couture eau de toilette from Guerlain, two copies of the book "The Perfect Wedding," and a gift certificate for 10,000 rubles from the Wild Orchid company. All guests received a complimentary assortment of Guerlain cosmetics and discount cards for the Wild Orchid chain of stores. That was followed by a festive banquet and a special wedding cake by Astoria Chocolatier confectioners.