Women's Health Announces Results of Year of Fitness Contest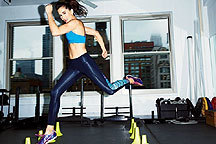 Women's Health magazine announced the winner of its Year of Fitness contest. Over the course of the one-month competition, participants shared their efforts to improve their figure and posted photos with the hashtag #WHSTAR to the Facebook and VKontakte social networks. By month's end, they had posted more than 200 photos in which they ran, swam, worked out in fitness centers, cooked up healthy dishes and used all of their creativity to stay in shape.
Olesya Pavina of St. Petersburg took the honors for first place and received the grand prize — a one-year subscription to a fitness club. Ms. Pavina shone as one of the most active participants in the contest, displaying her imagination and the great sense of humor for which she received a well-deserved first place. Congratulations on your victory!
Five more young ladies won the editors' hearts with their strong determination to achieve good health and great figures. Each received a Reebok gift certificate worth 5,000 rubles, enabling them to update their fitness wardrobes and continue working out in top form.