Women's Health: Win a Year of Fitness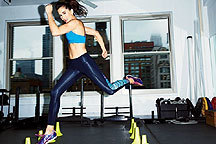 Women's Health magazine is conducting a contest: "Win a Year of Fitness." Readers post the hashtag #WHSTAR to special albums in the magazine's Vkontakte and Facebook groups and relate what they have done to improve their figure on that particular day.
Magazine editors will choose the most active and original participant on Feb. 28. The winner receives a free one-year membership to a fitness club in her own city.