National Geographic Anniversary Photo Exhibition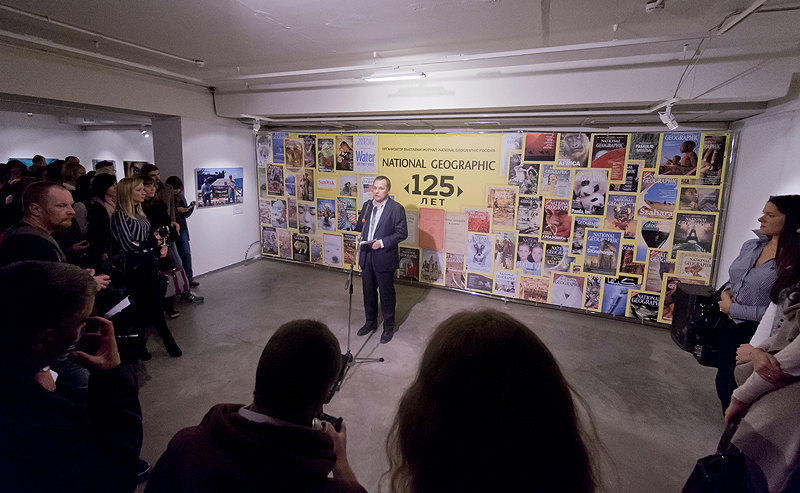 National Geographic Russia magazine, with support from SanDisk, held the opening of the "National Geographic at 125" photo exhibition at the Lumiere Brothers Photography Center on October 1. In honor of the anniversary year, the exhibition includes 125 photographs made by legendary photographers and explorers from 1888 until the present.
National Geographic Russia magazine Editor-in-Chief Alexander Grek opened the exhibition. He was followed by Sanoma Independent Media Board of Directors member and National Geographic Russia CEO Tatiana Shalygina and head of SanDisk in Russia and the CIS Rustam Nesterovich.
Special guests included Doctor of Biological Sciences and host of the "In the Animal World" TV program Nikolai Dvozdov, TEFI Award-winner and "In Search of Adventure" program host Mikhail Kozhukhov as well as author and "Let's Talk about Animals" TV program host Ivan Zatevakhin. The TV hosts congratulated the magazine's editorial board on the occasion of the opening and noted the contribution National Geographic has made to the development of society and geographic knowledge in particular. They pointed out that National Geographic is not simply a magazine with beautiful pictures, but a legendary publication that has made a significant contribution to their own lives as well.
The "National Geographic at 125" exhibition tells the story of NG, of its long years of exploration and discovery. Every image depicts a particular milestone in the history of the magazine. National Geographic magazine is now a recognized authority on photography: the very first color, underwater and night photos appeared on the pages of this publication – along with the first examples of photo journalism. The rare photos on display will provide visitors with a window into global expeditions, unusual traditions and the most remote areas of the planet. One of the highlights of the exhibition is the famous photo of the Afghan girl with piercing green eyes recorded by Steve McCurry – an image now legendary in the field of photo journalism.
The photo exhibition is traveling the world, and now Russian fans of National Geographic magazine will have the chance to delve into the history of global exploration and discovery.
The exhibition is on display until October 20 at the Lumiere Brothers Photography Center at Bolotnaya Nabarizhny 3-1. Operating hours are Tuesday - Friday, 12pm until 9pm.
Photo: Vladimir Fiolonov, Nadezhda Muravieva.