The Moscow Times Awards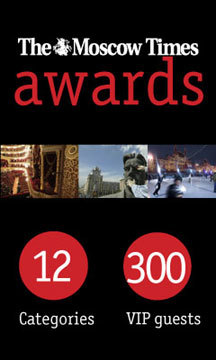 A ceremony for the winners of the first independent The Moscow Times Award will be held on December 10 at the Metropol Moscow. The expat community of Moscow will bestow formal recognition for outstanding achievements in the business and cultural life of the capital.
The Moscow Times Award will be presented in 12 categories in the fields of business, culture and social projects. The winners will be chosen by a jury of 20 experts, including ambassadors, journalists and editors of leading international media and other members of the expat community in Moscow.
The 300 guests expected to attend the awards ceremony will include business leaders, ambassadors, politicians, prominent cultural and sports figures, and representatives of Russian and international companies who will be seated at 20 tables designated for corporate guests. Television anchors Vladimir Pozner and Tatiana Arno will host the awards ceremony.