National Geographic 2013 Traveler Awards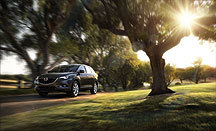 National Geographic Russia magazine, in partnership with Mazda, announces the start of voting for the best tourist destinations among the most popular forms of recreation in 2013.
Online voting will be held until the end of August 2013 on the site www.nat-geo.ru to determine winners in the following categories: beach vacation, sightseeing holiday, winter holiday, ecotourism and more. Mazda will also sponsor a special category: Best Road Trip. Readers can do more than just vote for that category – they can participate by describing their own road trip or coming up with an idea for a future road trip. Those submitting the best entries will win prizes from National Geographic Traveler and Mazda.
The voting results will be posted on the site www.nat-geo.ru, and the winter issue of National Geographic Traveler will present the best travel destinations of 2013.