National Geographic Russia on Radio Mayak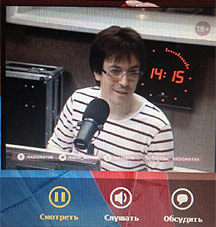 National Geographic Russia editor Andrei Palamarchuk spoke on Radio Mayak on May 12 as part of a project by the Russian Geographic Society. In an interview conducted by Olga Kokorekina and Alexander Karlov, Palamarchuk spoke about this year's "Wildlife of Russia" photo contest and how it showcases the works of photographers throughout Russia.
During the conversation, listeners learned about the contest rules, the judging categories, the age requirement and the special prizes that will be awarded to winners. Palamarchuk and his interviewers focused on the theme of conservation, nature's many riches and the need to protect the diversity of the world's wildlife.
A recording of the broadcast can be heard on the Radio Mayak website.