New Classes at the Wedding School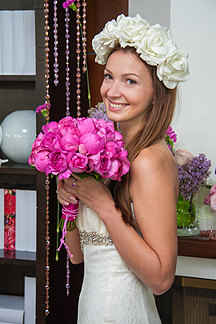 The most recent session of the Wedding School was held in the Ararat Park Hyatt hotel on Neglinnaya Street in the very heart of Moscow. Although the ground is still covered with snow, Moscow brides are preparing for sizzling wedding celebrations.
The Alice Scardino original events gallery not only organized the lesson, but its representatives also explained how participants could make their weddings unique. They said skilled professionals can combine classic style with something unusual, opening up endless possibilities for new wedding traditions, custom-made to match each couple. The event experts explained in detail how an unusual registration ceremony could become the emotional center of the entire wedding event.
A stunning selection of elegant wedding dresses from the I Do boutique was a big hit with the brides-to-be, each of whom saw something to fit her taste. Wedding magazine editor-in-chief Lika Dlugach conducted a workshop, transforming one of the participants into a beautiful bride with the ideal wedding look. Professional makeup artists from the Benefit brand offered advice on style and image choices and demonstrated the use of wedding makeup.
In a special photo zone displaying the logos of the Wedding magazine and the Alice Scardino agency, guests could have their photos taken against a backdrop of floral wreaths created by the Made by LM company. Florists from Flower Studio 55 conducted a workshop on making the bride's floral bouquet and decorating the hall and revealed to brides the secret of how to hold the bouquet for photo sessions. The Izmestiev Diamonds jewelry company gave participants a chance to not only view beautiful jewelry but to also try on their favorite items and to find something unique for their own weddings. Specialists from the Centara hotel chain conducted a fascinating presentation on three islands in the Indian Ocean — Seychelles, Maldives and Mauritius.
A raffle, festive banquet and wedding cake all awaited participants at the conclusion of the event. One of the top prizes was a romantic dinner for two from Ararat Park Hyatt, and all the guests received a complimentary makeup kit from the Biotherm brand.
The Wedding School grand finale was a raffle for the main prize: A wedding ceremony on Mauritius in the Centara Poste Lafayette Resort & Spa, compliments of Centara hotels.