Custom Publishing Welcomes Spring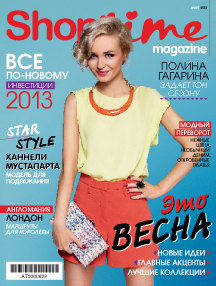 Spring is finally here! With this motto, Shop Time and Custom Publishing Sanoma Independent Media greet the newest collections and offer the very best design ideas.
In this issue, editors reveal the top images of the season and explain how to choose the best things, where to invest money and how to change your style without changing yourself. It is no coincidence that Polina Gagarina is featured on the March cover, as she, like nobody else, knows how to be different and raise eyebrows with her various looks: "This stylish young woman is in harmony with herself and her looks."
Also in this issue of Shop Time, New One modeling agency director Yana Vindzor explains the secrets behind models' perfect looks, blogger Sofi Yeliseyeva offers advice on how and what to buy on the Internet and famous TV host Snezhina Kulova shares her impressions as a shopper on the Shoptime.ru site.