National Geographic Russia on Mir TV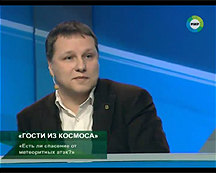 National Geographic Russia editor-in-chief Alexander Grek was a guest on the Word for Word talk show on Feb. 21. The program was devoted to meteorites.
The whole world is discussing the meteorite that landed near Chelyabinsk. By sheer luck, there were no casualties, but it raised the question of how we can protect our planet in the future from being struck by objects from space. Is there any way to protect ourselves from more meteor showers? These were the questions addressed by guests on this episode of "Word for Word."
You can view the program on the Mir TV website.