Women's Health Launched Site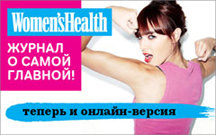 The official Women's Health website – www.whrussia.ru – was launched on February 4, 2013.
The site is more than just a source for the latest news on healthy lifestyles, but also a full-fledged entertaining and informative portal. Users will find recipes for new dishes, watch video workouts online, take psychological tests and learn about new products from the world of fashion, beauty and fitness. All information is grouped by subject in thematic sections.
The site also includes a special feature: live chat with portal guests. WHRussia.ru site editors and qualified specialists and experts from a wide range of fields are happy to answer readers' questions, offer recommendations and share their experiences. Women using the site can also tell their own stories, give each other advice or just post their comments about the latest issue of Women's Health.
Simple and intuitive navigation coupled with a striking design make a visit to the WHRussia.ru portal both entertaining and informative.