"The Beautiful Moments of Love" with Wedding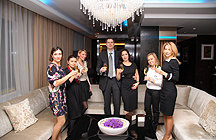 In March, Wedding magazine and Baume & Mercier announced a romance-themed contest for loving couples called "The Beautiful Moments of Love." Contestants had to describe special moments in their lives that were filled with happiness and love.
Wedding magazine editors received dozens of letters from readers. First place went to Alex Williams, who sent an amazing story about how he met Svetlana — the girl of his dreams.
Alex and his wife, Svetlana, were invited to the awards ceremony on November 30 at the Intercontinental Moscow Tverskaya Hotel. They were congratulated by Wedding magazine editor-in-chief Lika Dlugach and representatives of the Baume & Mercier Swiss watch house Irina Voroshilova and Irina Yershova. The happy couple was awarded men's and women's Hampton watches and took part in a Wedding magazine photo session. Six runners-up in the contest also received valuable and memorable prizes — Baume & Mercier alarm clocks.