Mamas&Papas: "Gimme this! Gimme that!"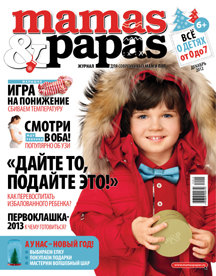 The December issue of Mamas&Papas answers the question, "How can you re-educate a spoiled child?" and examines issues concerning parents' authority.
In this issue:
First graders in 2013: What the parents of future first-graders need to know;
Look sharp: the popularity of ultrasound;
She's expecting: conflicts that arise when the test comes back positive;
Little ones: the best way to "juice up" your kids;
Rules for taking care of a child's things;
A fun cure: bringing down a baby's temperature;
Kitchen: New Year's dishes;
Choosing a Christmas Tree;
Buying gifts;
Creating magical Christmas Tree ornaments;
Test: Do you respond appropriately to a child's lies?
A special gift of Lego Minifigures is included in each magazine. The latest issue of Mamas&Papas went on sale at newsstands on Nov. 20.