Custom Publishing in Lisbon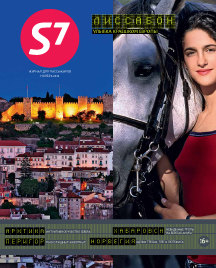 The November issue of the S7 Airlines in-flight magazine from Custom Publishing takes readers to experience fado, ride an aerial tramway in Lisbon, explore the magic of the Far East and Khabarovsk, travel beneath Australian skies with Mikhail Turetsky, study the lives of Greenland's Inuit hunters, look back at the outstanding soccer games between Spanish and Russian teams, travel to the home of Cyrano de Bergerac in France's Perigord and read an excerpt from "X," the new novel by Dmitry Bykov.
As always, the magazine contains a wealth of useful information to help passengers pass the time comfortably and productively. Each new issue contains travel routes, history, people, legends, customs and cuisines from around the world. Passengers will never get bored with S7 magazine.
Welcome aboard!