National Geographic Russia Chose the Best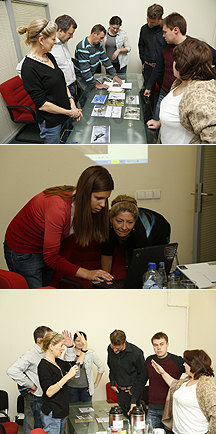 The jury for the 2012 Wildlife of Russia photography contest met at the editorial offices of National Geographic Russia on Oct. 23. They selected the top finishers, including the grand prize winner who will be awarded 300,000 rubles ($9,500).
This is the second time that National Geographic Russia magazine has organized the Wildlife of Russia photo contest in collaboration with the Russian Geographic Society. Participants submitted their works to the www.nat-geo.ru website from May until Sept. 30. Throughout those five months, the National Geographic Russia website and photography editors selected the best works to appear under the "Photo of the Day" heading on the Internet portal. More than 43,000 photographs were submitted from all over Russia. The geographic reach of the contest improved over last year's event, as did the number of submissions. But most importantly, the professionalism of the works also increased.
Prior to the jury's convening, National Geographic Russia art director Alevtina Sukhorukova selected the 360 best photos, from which the grand prize winner and the top entries in a total of 11 categories would be chosen. Jury members included National Geographic senior photo editor Kathy Moran, National Geographic International photo editor Darren Smith, National Geographic Russia editor-in-chief Alexander Grek, National Geographic Russia art director Alevtina Sukhorukova, National Geographic Russia senior photographer Andrei Kamenev, National Geographic staff photographer Sergei Gorshkov and Russian Geographic Society editor and photographer Yaroslav Nikitin.
Heated discussions occasionally broke out between jury members when opinions varied, while at other times, they easily reached consensus on shots they all liked. American guests Darren Smith and Kathy Moran were pleasantly surprised by the professional skill of the Russian photographers whose works were entered in the contest, and they were struck by the diversity and natural beauty of Russia itself.
The names of the winners will be announced at a ceremony summing up the results of the photo contest and at a special photo exhibition that will run from Dec. 11 to Jan. 13 at the Lumiere Brothers Photogallery.