Vedomosti Held Pre-Party for Captains of Business Regatta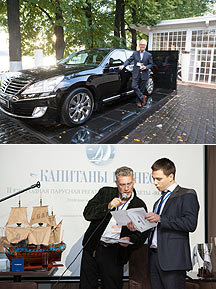 Vedomosti newspaper held a dry run for its Captains of Business regatta on Sept. 4. The pre-party held at the Royal Bar restaurant in Moscow brought together past and future contestants for the Vedomosti cup in anticipation of the newspaper's second annual corporate regatta. Respectable businessmen, the beau monde of Moscow and the stars of Russian show business were on hand.
Gleb Prozorov of Vedomosti welcomed the guests. Derk Sauer of Sanoma Independent Media shared his impressions of last year's regatta, and Captains of Business project director Ekaterina Son introduced the teams competing in this year's race.
Music critic Artemy Troitsky held a drawing for the boats each team would use, as well as a gift lottery for the participants. The prizes included portable MP3 players from TRUST Bank, Gaastra gift certificates for 5,000 rubles ($160), Equus automobile models, certificates for a stay at the Grand Hotel Europe in St. Petersburg and much more. Following the official opening of the evening's event, Oleg Nesterov and Vadim Stepantsov staged a musical flash mob.
The party guests included singer Alyona Sviridova, TV host Elena Ishcheyeva, Olympic sailing team coach Sergei Dzhienbayev, businessman Vladimir Dzhao and other celebrities.
The second annual Captains of Business corporate regatta organized by the Vedomosti business newspaper in collaboration with The Moscow Times newspaper will be held in the Aegean Sea on Sept. 8-14, 2012. This year, 17 teams representing leading Russian and international companies will compete. TRUST Bank will serve as general partner to the regatta, athletic and yachting wear maker Gaastra will act as the fashion partner, and the Equus will serve as the official automobile of the race.