National Geographic Traveler: Top 10 Culinary Itineraries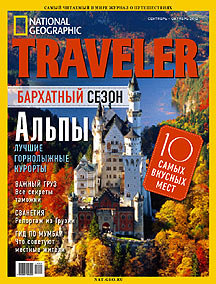 In the latest issue of National Geographic Traveler magazine, readers will find amazing culinary vacation routes through France, Spain, Norway, Italy, Japan, Thailand, the Czech Republic, Jamaica and Kenya.
The Strategy column looks at the ever-important question of customs: How can you pass through customs without a hitch? What is the correct way to fill out a customs declaration? How can you bring home an antique or take a pet along in your travels?
In Guide, readers will find tips from residents of Mumbai, and in Report, NGT journalists cover Georgia's northern region of Svaneti.
Spend a weekend in Pskov in the 48 Hours section and find the best ski resorts in Italy, France, Austria and Switzerland in Adventure.
The issue will go on sale Sept. 18.