Yes!: Back to School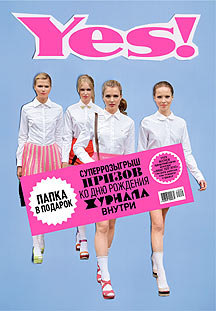 The September issue of Yes! magazine goes back to school. The special "Study Hall" section, which brings together all of the most fashionable school trends, includes a large article on learning to get along with a new group of schoolmates as well as stories from readers who work as a teachers — plus examples of back-to-school love problems taken from classic world literature. Readers will also enjoy photos and interviews with celebrities sharing whom they had dreamed of becoming as children.
Yes! tries to give its readers a new surprise with every issue, and this time it has outdone itself. In honor of the magazine's 14th anniversary, the September issue includes an indispensable item in the life of every student: an A4-size school folder for keeping papers, notebooks and everything a young scholar needs during the school year.
Readers will also be treated to a super giveaway of dream prizes.