Mamas&Papas: Operation Adaptation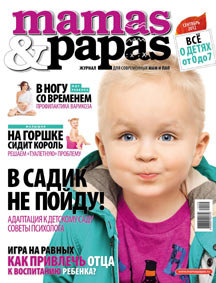 The first autumn issue of Mamas&Papas magazine explains how to prepare little ones for kindergarten and older children for school. Readers will find the best strategy for helping kids cope with the stresses that lie in wait for them as well as advice for parents by psychologists, doctors and other experts on issues of childhood.
But that is not all! The magazine shows how mothers can easily, and without confrontation, involve fathers in the education of their children, what to do if your child gets lice during summer vacation, whether there is a foolproof way to potty train toddlers and the main points of Glenn Doman's techniques for early development.
Future mothers will learn how to stay beautiful during pregnancy and how to take care of their legs in order to prevent varicose veins.
This issue of Mamas&Papas will also offer advice on which theaters to visit with your children, teaching your kids to brew potions and the right way for children to dive underwater.
Available from Aug. 21.