Collezioni in Moscow Bicycling Project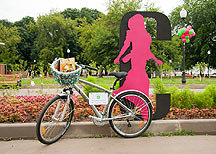 Collezioni magazine served as the media sponsor for the Moscow Bicycling project, which was organized by the Dozhd television channel. As part of the project, Collezioni presented an exhibition of artsy bicycles at Gorky Park.
The magazine chose one of the park's main avenues for its site and top designers transformed 11 bicycles into pieces of art. The participating designers included Anna Miminoshvili, Kira Plastinina, Viktoria Andreyanova, Masha Tsigal, Sergei Sysoyev, Dasha Gauzer, Igor Gulyayev, Maria Shosheva, Dmitry Kuteiko, Iseta Gadzhiyeva andYulia Shakirova.
The event generated tremendous interest among visitors. An increasing number of people are riding bicycles in Moscow these days. Doing errands or just having a good time on a bicycle is fashionable, smart and healthy.
In its role as media partner, Collezioni ran material in support of the project on the pages of the magazine.