The Moscow Times Presents "Russia – France" Supplement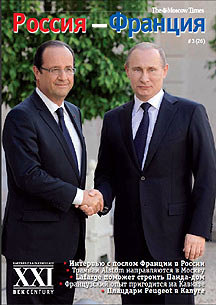 The Moscow Times newspaper has released "Russia – France," a new supplement and a joint project with the Franco-Russian Chamber of Commerce (CCIFR). The supplement is devoted to economic and cultural cooperation between the two countries and has been released annually for more than five years.
This year, the supplement focuses on projects and achievements that have become an integral part of Russian life and that actively contribute to the modernization of the economy. It also examines joint projects and the possibility of increased French investment in Russia. All major French corporations have a presence in Russia and consider the country strategically important for investment.
The supplement, published in both English and Russian, will be distributed in Moscow and St. Petersburg.