Collezioni in July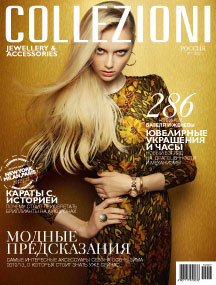 The July issue of Collezioni magazines features material on "Jewelry and Accessories": the most interesting accessories of the fall/winter 2012-2013 season, the main trends in jewelry, watch exhibitions in Basel and Geneva and much, much more.
Also in this issue:
Carats with a past: why it makes sense to buy diamonds at an auction;
Jewelry and watches: a new look at jewels and mechanisms;
Interviews with the heads of the five largest manufacturers that set the trends in the luxury industry;
The Russians are here: the number of Russian jewelry brands is on the rise;
Good times: the most unusual watches;
Timeless: the most popular fragrances from leading jewelry houses;
Absolute happiness: the best spa resorts.
Collezioni – fashion in your hands!