National Geographic Russia Photo Exhibition at Sheremetyevo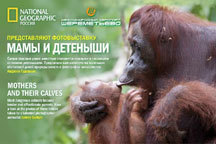 The "Mothers and Babies" exhibition opened in the Galaxy business lounge of Terminal E at Sheremetyevo International Airport on the eve of International Children's Day on June 1.
The exhibition includes 20 works by regular contributors to National Geographic Russia. The Galaxy lounge is open to business class travelers, but those traveling economy class can obtain permission from the administrator to enter. The exhibit will be open for viewing around the clock throughout the summer.
Some of the world's most dangerous animals are shown in endearing moments of tender affection with their young ones. Renowned animal photographers capture pint-sized animals of prey in images brought in from all over the world. Elephants and leopards, lemurs and monkeys, bears and hippos with their young ones will delight Sheremetyevo passengers with their closeness and devotion to one another.