Custom Publishing Presents Interactive Banking Tabloid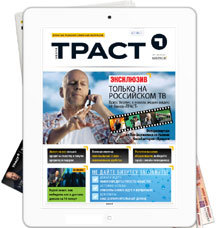 The Custom Publishing department of the Sanoma Independent Media publishing house has created the first interactive banking tabloid. Now, Internet users and iPad owners can quickly and easily access the unique content of the Trust Bank custom publication at any time of day or night. Readers will find interesting and useful materials on the financial products and services offered by the bank, a compact layout, convenient navigation, built-in audio and video files and the ability to post comments to articles in social networks.
All of this was made possible through the coordinated work of several SIM departments. Custom Publishing created the editorial content for the print version of the newspaper and the Digital Publishing and Internet Projects departments proposed and implemented the unique technical solutions for the application.
According to Trust Bank Vice President for Communications and Marketing Dmitry Chukseyev, "In the near future, the online solution will become a significant channel for interactive communication with potential and existing bank customers. This year, in accordance with the principles of social responsibility, we are reducing the use of physical advertising media in favor or virtual media. Digital communication tools provide a transparent method for analyzing effectiveness, a wide reach and they do not require the use of natural resources."
"The Trust Bank online newspaper is unique and currently the only such project in the market," said SIM Custom Publishing Director Galina Ustinova. "This is a new ideology and a substantive approach to financial publications that includes a strong technical component and interesting design elements. That combination makes it possible to retain current readers and attract new ones," she said.
Custom Publishing has been producing the Your Bank quarterly print newspaper since 2009. This is the first and currently the only bank publication in Russia to be released in a tabloid format that couples striking design with interesting and accessible articles on financial products and services.
The publication features trends in the Russian financial market, advice from bank experts for businesspeople and private clients as well as the latest information about new products, services and special offers for Trust Bank clients. The newspaper also includes exclusive content about Bruce Willis, comics and an entertaining column about the financial successes and failures of international celebrities.